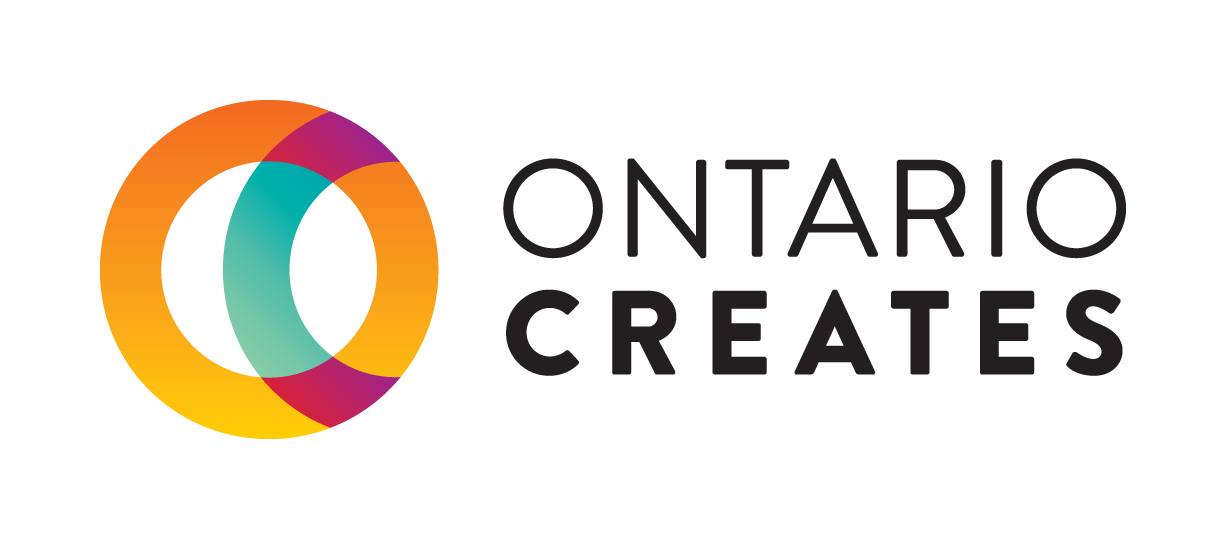 Celebrating Ontario
ONTARIO CREATES SUPPORTED FILMS SCREENING AT TIFF 2023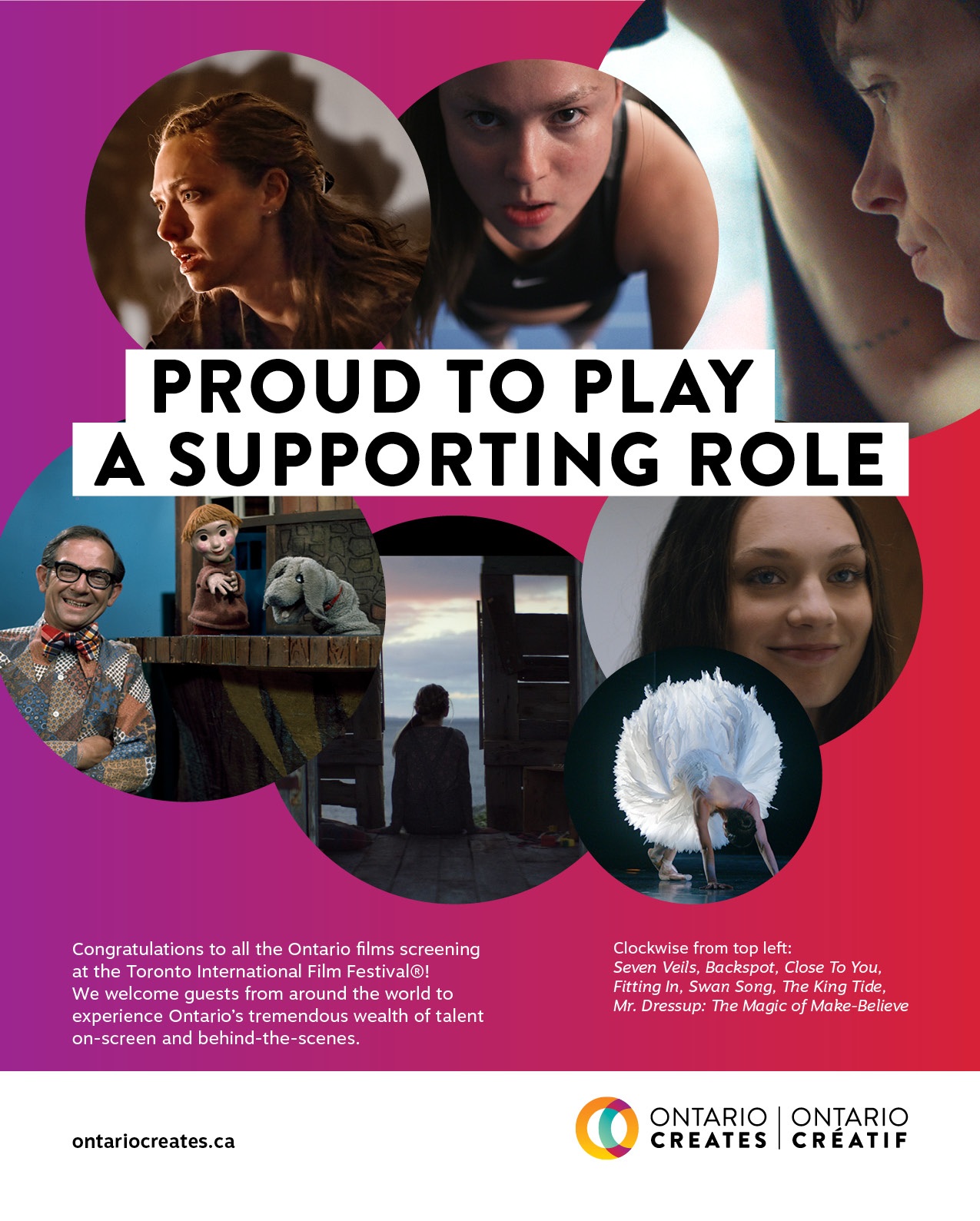 FILMS ON THE HORIZON
A Mother Apart
Production Company: Oya Media Group
Producers: Alison Duke, Ngardy Conteh George, Justine Pimlott
Director: Laurie Townshend
Distributor/Sales: National Film Board of Canada
(sales@nfb.ca)

All the Lost Ones
Production Company: Electric Panda Entertainment
Producers: Yas Taalat, Mackenzie Donaldson, Chantal Kemp
Director: Mackenzie Donaldson
Distributor/Sales: levelFILM (Canada Only)
John Bain (jb@levelfilm.com)

Better Days
Production Company: 2821899 Ontario Inc.
Producer: David Gordian
Director: Joan Carr-Wiggin
Distributor/Sales: Paragraph Pictures
(paragraphpictures@gmail.com)

Coven

Production Company: Storyline Entertainment Inc.
Producer: Ed Barreveld
Director: Rama Rau
Distributor/Sales: Espresso Media International
Jessica Reilly (jess@espressomedia.co.uk),
+44 742 838 2099
Noted festival selections: Hot Docs

Cynara
Production Companies: Frequent Flyer Films Inc., Taza Media
Producers: Bryn Hughes, Sherien Barsoum
Director: Sherien Barsoum
Distributor/Sales: Espresso Media International
Jessica Reilly (jess@espressomedia.co.uk)

Fidelity
Production Company: Next Phase Motion Pictures
Producers: B. P. Paquette, Avi Federgreen (Executive Producer)
Director: B. P. Paquette
Distributor/Sales: Indiecan Entertainment
(705) 560-9187

I Used To Be Funny
Production Company: Barn 12 Inc.
Producers: James Weyman, Jason Aita, Breann Smordin
Director: Ally Pankiw
Distributor/Sales: Magnolia Pictures International
Austin Kennedy (akennedy@magpictures.com)
Noted festival selections: SXSW in Competition; Melbourne International Film Festival; Winner - Audience Award, Inside Out LGBTQ2S+ Festival

Longing
Production Companies: Scythia Films and Current Flow Entertainment
Producers: Daniel Bekerman, Alexander Vinnitski, Neil Mathieson
Director: Savi Gabizon
Distributor/Sales: Sales Agent - The Solution
Lisa Myles (lisa@thesolutionent.com) and Myles Nestel (myles@thesolutionent.com)

My Animal
Production Companies: Good Movies Inc., Les Films Band With Pictures Inc.
Producers: Andrew Bronfman, Michael Solomon
Director: Jacqueline Castel
Distributor/Sales: Photon Films, XYZ Films, Paramount Pictures
(andrew.bronfman@gmail.com)
Noted festival selections: 2023 Sundance Film Festival

Queen of the Deuce
Production Companies: Storyline Entertainment Inc., Exile Films
Producers: Ed Barreveld, Valerie Kontakos, Despina Pavlaki
Director: Valerie Kontakos
Distributor/Sales: Cinephil
Olivier Tournaud (olivier@cinephil.com), +971 50 5626 001
Noted festival selections: DOC NYC, Thessaloniki International Film, Maine International Film Festival

Queen Tut
Production Companies: Fae Pictures, Hawkeye Pictures
Producers: Shant Joshi, Lindsay Blair Goeldner
Director: Reem Morsi
Distributor/Sales: Vortex Media (Canada)
(rob@vortexpix.com), (647) 808-0400
Cinephobia Releasing (US/UK)
(ray@cinephobiareleasing.com), (215) 500-7172

Warrior Strong

Production Companies: Darius Films and Cause and Effect Productions
Producers: Nicholas Tabarrok, Leah Jaunzems
Director: Shane Belcourt
Distributor/Sales: Quiver Distribution
Berry Meyerowitz (berry@quivercapital.com)

We Forgot To Break Up
Production Company: Motel Pictures Inc.
Producer: Nicole Hilliard-Forde
Director: Karen Knox
Distributor/Sales: Northern Banner (Canada)
(mpaszt@ravenbanner.ca)

Humane


Production Company: Humane Productions Inc.
Producer: Michael Sparaga
Director: Caitlin Cronenberg
Distributor/Sales: Elevation Pictures

Spirit in the Blood
Production Companies: Junafilm, Elevation Pictures
Producers: Verena Gräfe-Höft, Noah Segal, Kari Hollend
Director: Carlin May Borgstrom
Distributor/Sales: Elevation Pictures (Canada), Protagonist Pictures (Worldwide)
Check out the Ontario Film Commission's new resource! The Producer's Guide to Shooting in Ontario offers productions an overview of our film commission services, provincial and federal financial incentives, our unique locations, infrastructure, talented workforce and Ontario Green Screen—a handy tool for anyone considering Ontario for live action, VFX, animation or post-production.
We look forward to welcoming your next project to Ontario!
We are proud to present the Ontario Green Screen 2023-2027 Strategic Plan. Ontario Green Screen (OGS) is made possible through a partnership between Ontario Creates, industry, and municipal partners, representing all aspects of the industry across the province. Collectively, we have a shared passion to facilitate sustainable production practices.
We created the OGS Strategic Plan in collaboration with the OGS Advisory Committee and industry subject matter experts. This plan lays out specific, measurable and timely goals for the initiative, over the next four years:
We commit to fostering an engaged, diverse, inclusive, and collaborative community that advances and enables sustainable production practices.
We commit to informing and educating Ontario's film and television industry stakeholders about sustainability best practices.
We commit to creating a framework to effectively measure and report on environmental impacts and industry-wide progress.
We commit to delivering resources, tools, and initiatives to empower individuals to incorporate sustainable strategies and protocols that will help reduce the negative environmental impacts of film production across Ontario.
FILM AND TV PRODUCTION STATISTICS (2022)
Ontario's Record Breaking 2022 Production Statistics have been released!
Find them here: https://www.ontariocreates.ca/assets/images/research/statistics/eng/2022-film-and-television-production-statistics-backgrounder-final.pdf

SHOOTING IN ONTARIO
ONTARIO MUSIC
Each month the Ontario Music Office curates a new playlist featuring recent releases and classic tracks from Ontario artists.
Wanna hear more? Listen to these selected playlists:
PODCAST
Ontario Creative Industries In Conversation is an ongoing conversation among decision-makers in the creative industries and it is also a podcast! If you've missed a session or want to share what you've learned with a colleague, here's your chance! https://www.ontariocreates.ca/research/podcasts

RESEARCH FUNDED BY ONTARIO CREATES
Ontario Creates participates in research that supports the development and growth of the cultural media industries. In addition to Ontario Creates-commissioned initiatives, research project funding is provided to industry trade organizations and other stakeholders. https://www.ontariocreates.ca/research/research-funded-by-ontario-creates