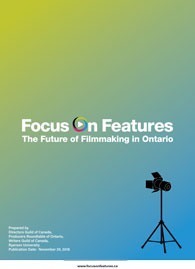 Focus on Features: The Future of Filmmaking in Ontario
Directors Guild of Canada, the Producers Roundtable of Ontario, and the Writers Guild of Canada commissioned this report on the status of the feature film industry and landscape in Ontario. Topics cover training and mentorship, development, production and distribution, and evolving definitions of feature film. The study is based on a review of third party research including a cross-jurisdictional scan, an online survey of filmmakers, and stakeholder interviews with screenwriters, directors, producers, funders and others. November 29, 2018.
Visit the companion website here.