Issue 10 - May 2021
Our quarterly Business Intelligence Bulletin brings you links to research studies, industry statistics, trends, policy development and other resources of interest to Ontario's creative industries.
---
Program Announcements
In 2021, there is one remaining deadline for the Business Intelligence Program.
For the 2021-22 fiscal year, the Business Intelligence Program will be prioritizing projects related to COVID-19 recovery; diversity, equity and inclusion; and workforce development.
Updated guidelines have been uploaded to the Ontario Creates website to reflect new deadlines and changes to the program.
2021/22 Business Intelligence Program Deadlines:
Tuesday, August 10, 2021
---
Events and Podcasts
Every year, Ontario Creates hosts a series of breakfast panels that brings together industry experts for cross-sectoral discussions on key issues that affect the cultural industries in Ontario.
This year, there will be four panels. Topics and dates will be announced shortly.
Podcasts of all our previous sessions are available on our website.

View All Podcasts
---
Recent Reports funded by Ontario Creates
This report by the Canadian Film Centre sought to provide a snapshot of the impact of COVID-19 on women-led digital media businesses in Ontario. It highlights many important takeaways from a series of surveys and workshops, with the main priority themes being business adaptation, social distress, and exhaustion, change and collaboration.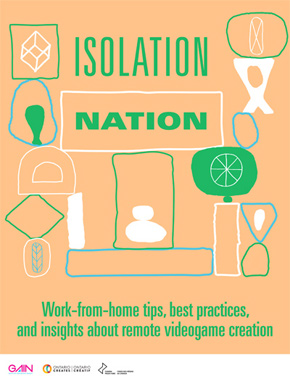 This report by Game Arts International Network (GAIN) aims to better understand the challenges faced by Canadian game studios while working from home during COVID-19. The report identifies the top ten work-from-home challenges and top ten benefits, and provides advice on how best to avoid and mitigate those challenges.
View all reports
---
ONLINE RESEARCH LIBRARY

Our Online Research Library is updated frequently with reports and studies of interest to stakeholders in Ontario's creative industries.
---
RECENTLY UPDATED INDUSTRY PROFILES
MUSIC MAJOR UPDATE
IDM INTERIM UPDATE
FILM & TV INTERIM UPDATE

View all Profiles
---
DATA RELEASES
Statistics Canada has released new data from December 2020 comparing pre- and post-pandemic GDP by sector. This chart indicates that the Arts and Entertainment sector is still struggling to recover in the same way that many others have.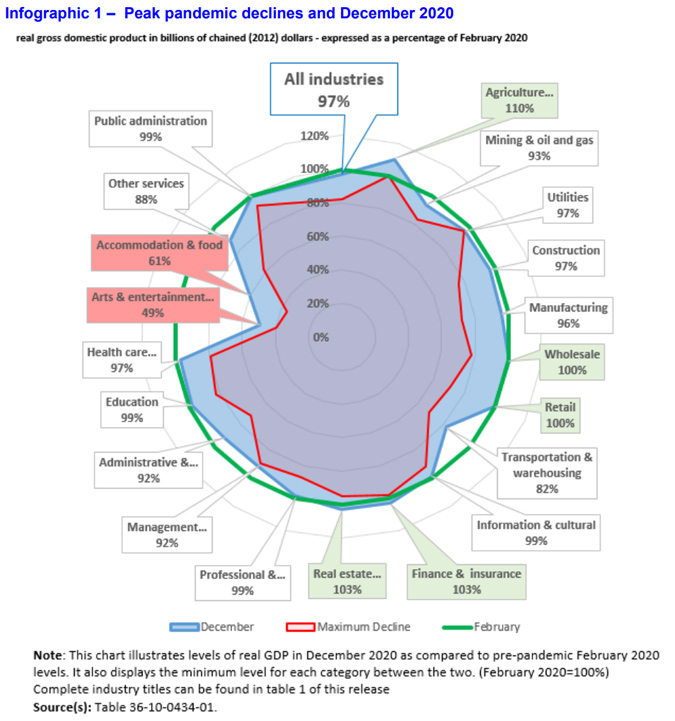 Statistics Canada has released updated National Culture Indicators. This data set is an extension of the Provincial and Territorial Culture Satellite Account and the Provincial and Territorial Culture Indicators and provides the first snapshot of GDP and job data during the pandemic.
---
CREATIVE INDUSTRIES POLICY AND FUNDING

The Ontario provincial budget released on March 24, 2021 focused on health and the economy, relief for individual workers/families, and rebuilding the tourism sector. It included additional funding for the Ontario Arts Council, the Small Business Grant, NOHFC, an IP Fund for web-based curriculum, and enhanced employment training supports. Also included was a new Invest Ontario Fund, a Temporary Jobs Training Tax Credit, and a doubling of the existing Regional Opportunities Investment Tax Credit.
The Department of Canadian Heritage announced a $40 million Support for Workers in the Live Arts and Music Sectors Fund, as part of the Fall Economic Statement investment of $181.5 million in emergency support for the arts and culture sectors. This money will be delivered through Building Communities through Arts and Heritage – Local Festivals component, Canada Arts Presentation Fund, and Canada Music Fund through FACTOR and MUSICACTION.
On April 19, 2021, the 2021 Federal Budget was tabled. The Budget introduces $101.4 billion in new spending over the next three fiscal years on a wide range of measures aimed at defeating COVID-19, countering the recession and supporting the middle class. Specific funding was committed to the music sector, the film and TV sectors, and the book sector, as well as a number of multi-sectoral commitments.
---
OTHER NEWS & UPDATES
The federal government has introduced legislation to update the Broadcasting Act, confirming that the CRTC is able to regulate online broadcasting services, such as streaming services. This new Bill will allow the CRTC to make rules, gather information, and assign penalties for non-compliance.
---
ARE YOU FOLLOWING US ON SOCIAL MEDIA?
Learn about industry news, sign up for networking opportunities and hear about programming updates.
Come join the conversation!
---
Contact us
Ontario Creates
175 Bloor Street East, South Tower, Suite 501,
Toronto, Ontario M4W 3R8
Phone: 416.314.6858 Fax: 416.314.6876
www.ontariocreates.ca
research@ontariocreates.ca